Thursday 17th October 2013, 6-9 pm
Body and Mind: Mesmerism in Nineteenth Century Culture and Literature
Barts Pathology Museum
This symposium will seek to explore the relationship between the sciences and Victorian mesmerism, psychical research and parapsychology.
This event has been kindly sponsored by the British Society for Literature and Science.
Speakers:
Prof. William Hughes (Bath Spa University) 'The Theatre of His Beastly Exhibitions': The Erotic Nature of Early Victorian Magnetism'
Andreas Sommer (Cambridge University) 'Mesmerism, hypnotism and the formation of modern psychology in Germany'
This event is free but tickets will need to be booked in advance. Book online here.
The event will take place at Barts Pathology Museum, 3rd Floor, Robin Brook Centre, West Smithfield, London, EC1A 7BE
Nearest tube: St Paul's
Doors open at 6pm, when there will be a chance to view the exhibits in the museum. The event will run from 6.30 - 8.30pm
Refreshments provided; Admission free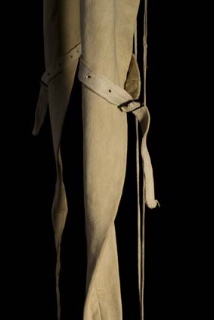 held
Jane Fradgley
A photographic exhibition in Plymouth and London, April - September 2013
Jane Fradgley's evocative photographs of historical restraining garments from the Bethlem Royal Hospital Archives & Museum evidence her interest in fabric and utilitarian clothing, an intrinsic remnant of her past career as a fashion designer. Through held this artist offers her unique perspective; a poetic documentation for contemplation with the added intention of contributing to a dialogue and debate around protection, restraint and chemical intervention in mental health care today.
MRC SGDP Centre, Institute of Psychiatry, London (11 July - 27 September)
EXHIBITION
18 March - 14 July 2013
North Cloisters, UCL. See exhibition website for full details.
Where do we end and the object world begin?

An exhibition curated by UCL Researchers in Museums, re-interpreting the university collections through the theme of 'foreign bodies'. Through seven very different research projects, audiences are invited to explore the idea of what is alien – biologically, psychologically, socially and politically – and how this concept has shifted across history, culture and even species.

A sword that fatally wounded a sword swallower; ingested coins and nails; parasites and ticks are displayed alongside objects that enter the body through less conventional ways. Ink, introduced into the skin to create tattoos, may also inadvertently introduce dangerous microorganisms. The tattooed body has itself often been used to highlight difference: the way we define ourselves by first defining the 'other'. Similarly, primates may be considered to be the ultimate foreign bodies, against which we define what it is to be human.

An exhibition trail leading visitors through UCL Museums to discover other "foreign bodies" hidden within the collections, is available during museum opening hours. Each Friday at 2pm (from April 5th), a curator-led tour will begin in the North Cloisters, highlighting different parts of the trail.